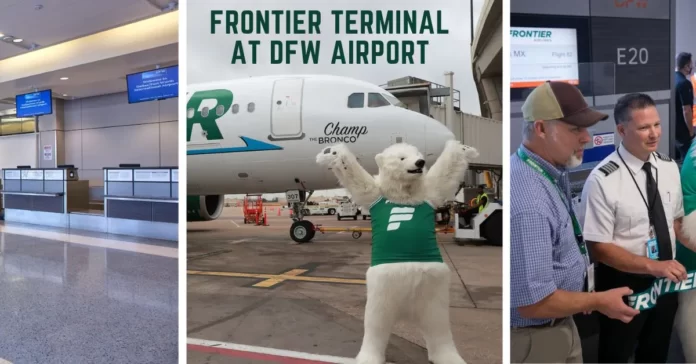 Frontier Airlines is one of the budget carriers with its headquarters in Denver, Colorado. The airline operates regular commercial flights to more than 100 destinations in the United States, Mexico, and the Caribbean.
Frontier flights are primarily operated from Denver International Airport (DIA). Other focus cities include Miami, Atlanta, Chicago-O'Hare, Cleveland, Dallas/Fort Worth, Las Vegas, Orlando, Philadelphia, Phoenix-Sky Harbor, Tampa, and Trenton.
Dallas/Fort Worth International Airport (DFW) is one of the key operating bases for Frotnier Airlines. DFW is recently added to the Frontier's focus cities.
In this article, we will find out 'What terminal is Frontier at DFW Airport?' including the terminal map, arrivals/departures information, amenities & services, and more.
Table of Contents
What terminal is Frontier in at DFW?
DFW, which stands for Dallas/Fort Worth International Airport, is a significant global airport serving the Dallas-Fort Worth Metroplex area in Texas. It serves as the primary hub for several airlines, including American Airlines, Ameriflight, Southern Airways Express, and UPS Airlines.
In addition to these airlines, major US carriers and international airlines such as Frontier Airlines operate regular scheduled commercial passenger flights to and from DFW.
The airport boasts a comprehensive terminal infrastructure with five terminals: Terminal A, Terminal B, Terminal C, Terminal D, and Terminal E. With a total of 171 boarding gates, DFW offers travelers a variety of options and amenities to make their travel experience as comfortable and efficient as possible.
Frontier Airlines operates from Terminal E at DFW Airport. Gates E are available for Frontier departures. Besides, Frontier uses Gates D for international departure from DFW.
Facilities offered by Frontier at DFW
TSA PreCheck
Customer Service
Ticket Counters
Board First Service 
Airport Agent Assistance
Courtesy Boarding
Zone 1 Boarding
Special Services
Frontier Ticket counters at DFW Airport are located outside security, and are generally operational 2 hours prior to departure time until 45 minutes prior to departure time.
Frontier passengers can use self-service airport kiosks, online check-in, or Frontier Mobile App for convenient check-in.
IMPORTANT NOTE: Passengers must print their boarding pass, and have their bags checked 60 minutes before domestic/international departure. (Mobile and Web Check-in end 60 minutes prior to departure.)
Passengers who have oversized baggage, unpaid balances, unaccompanied minors, or animals with them must visit the ticket counter. Similarly, those who need to make itinerary changes, require special services, or need to declare firearms must also be present at the ticket counter.
Customers who purchase a carry-on bag are entitled to Frontier's Board First Service and Zone 1 Boarding. Additionally, customers who purchase the Works bundle or become Elite members of myFrontier Miles are also eligible for Zone 1 Boarding.
Furthermore, there is a Courtesy Boarding service available to families traveling with small children (under 3 years old) and any other passengers who require additional time or assistance.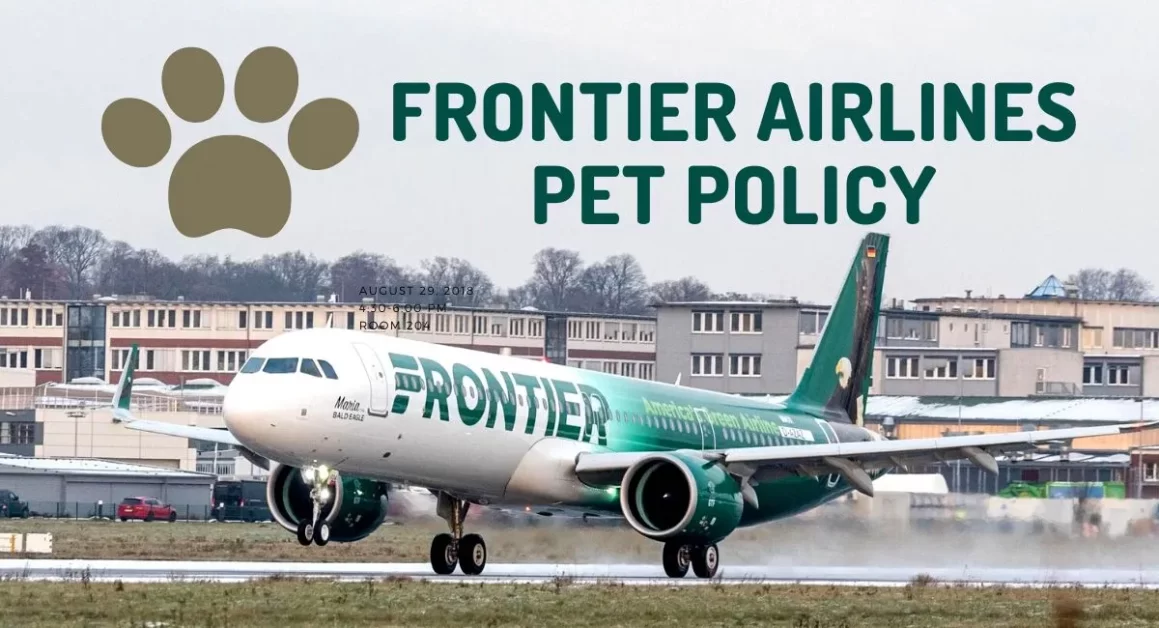 If you are traveling with your pets via Frontier flights, go through the Frontier Pet Policy to travel safely with your furry friend.
Frontier Airlines doesn't allow pets in the cargo compartment, or on any cargo flights. Pets are only allowed to travel with passengers in the aircraft cabin.
Transportation Facility at DFW Airport
Rental Cars
Public Transit
Ground Transportation including App-based Rideshares, Taxis, Courtesy Vehicles, Limousines, and Charter Buses
Frontier Airlines DFW Terminal Map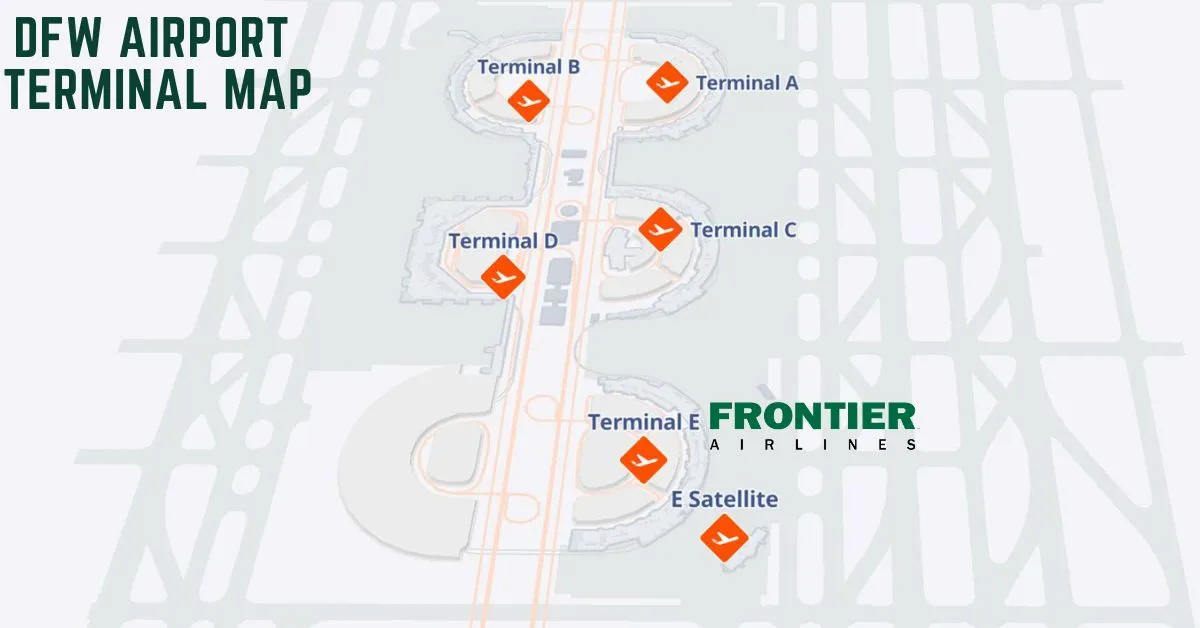 The image above shows the terminal design of DFW, with all terminals arranged in a semicircle shape except for Terminal D, which is shaped like a square U. This design was intended to reduce traffic around the terminals.
To travel between terminals, DFW provides an automated people mover (APM) facility called Skylink. As a Frontier passenger, you are required to use Terminal E for check-in.
Which departure terminal is Frontier at DFW?
The majority of Frontier departures from DFW Airport are handled from Terminal E. However, some international departures are also operated from Terminal D.
FRONTIER TIP: Remember, your gate assignments and departure times can change due to operational requirements. You can easily stay updated by checking the flight monitors at the airport.
All terminal facilities, and services including baggage handling, check-in, ticket counters, security screening, priority boarding, food & dining options, and so on are offered at the departure terminal.
What terminal is Frontier Arrival at DFW?
All Frontier Arrivals at DFW Airport are handled at Terminal E. Facilities including Baggage Claim, Immigration, Security Clearance, and other basic services are offered at the arrivals.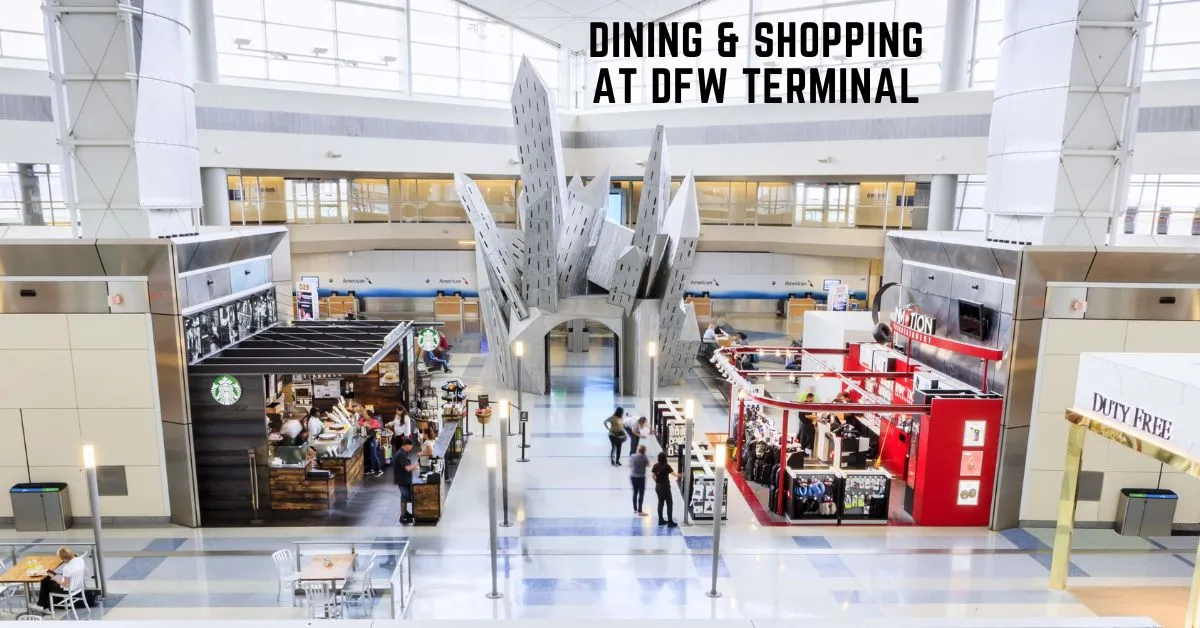 Dining and Shopping Options at DFW Airport
Frontier passengers flying via DFW airport get the opportunity to dine, and shop at several restaurants, and retail shops in DFW Terminal E.
Some popular restaurants in DFW Terminal E
2.0 Taco & Tequila Bar
Auntie Anne's
Chick-fil-A
Drew Pearson's Sports 88
Einstein Bros. Bagels
IHOP
Love Shack
Panda Express and Bar
Peet's Coffee & Tea
Sonny Bryan's Smokehouse
TGI Fridays
Uno Due Go
Wendy's
Shops in DFW Terminal E
Hudson
InMotion Entertainment
Lick Candy Store
Lone Star Attitude
Marshall Rousso
ShopAll Electronics Vending
Sound Balance
Texas Marketplace
VAS
7-Eleven
DFW Airport Parking Facility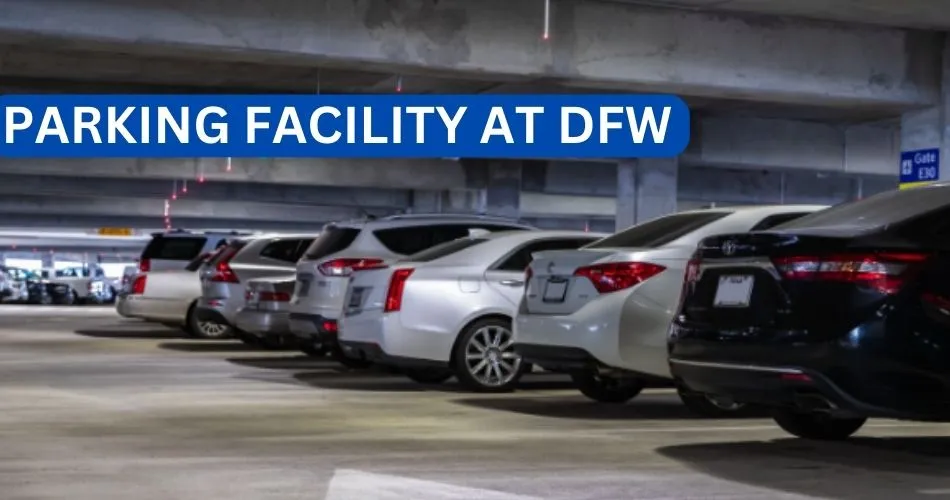 Dallas/Fort Worth International Airport provides several parking options, such as Terminal Parking, Express Parking, Remote South Lot, Valet Parking, and Cell Phone Lots. Passengers can reserve parking spots online through the official DFW website.
For Frontier Airlines passengers, the Terminal Parking lot is a convenient option as it is situated right next to all five terminals at DFW. Moreover, these lots are located closest to the check-in gates.
Terminal Parking Rates at DFW Airport
| | |
| --- | --- |
| TERMINAL PARKING TIME | RATE |
| 0-8 minutes | $6.00 |
| 8-30 minutes | $2.00 |
| 30 minutes — 2 hours | $3.00 |
| 2 – 4 hours | $9.00 |
| 4 – 6 hours | $10.00 |
| 6 – 24 hours | $24.00 |
Car Rental Services at DFW Airport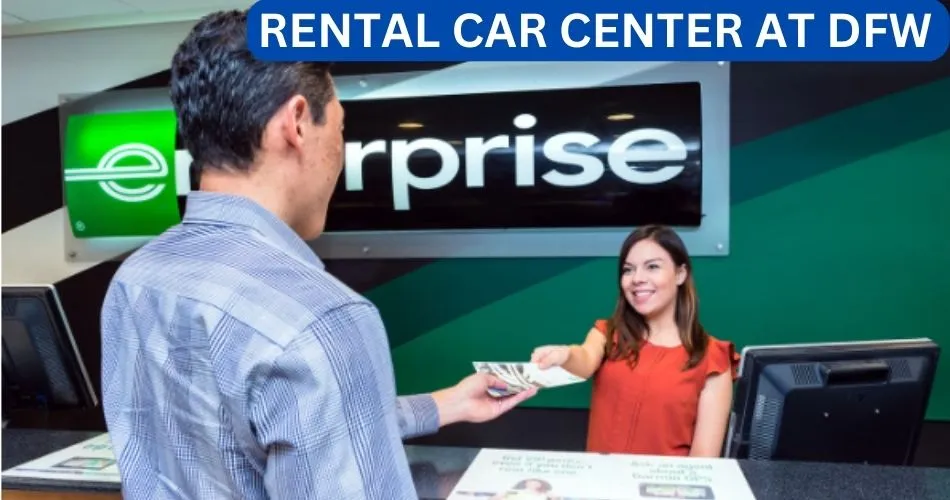 Dallas Fort Worth International Airport features a 24-hour Rental Car Center where 11 rental car providers operate their services. The Rental Car Center at DFW is located at 2424 E. 38th Street, near the south entrance of the airport.
Advantage, Alamo, Avis, Budget, Dollar, Enterprise, Hertz, National, Payless, Sixt, and Thrifty are the 11 companies offering 24-hour rental car service for passengers at DFW Airport.
Tips for Arriving Passengers
Once you have claimed your baggage, you can follow the Rental Car signs to the designated pick-up area located on the lower level of the terminal. From there, you can board the Rental Car Shuttle bus (operates 24 hours a day, departs every 15 minutes), and reach the Rental Car Center in approximately 10 minutes.
Tips for Departing Passengers
Departing passengers can return their car at the Rental Car Center by following the signs to Rental Car Center. They can reach the airport's terminal by boarding the Rental Car Shuttle, which operates 24 hours a day and departs every 10-15 minutes from the facility.
If you are an AAA member, AARP member, active-duty military personnel, national guard, and federal government employee, you get exclusive car rental discounts, and benefits.
(Check out the following blogs to grab the discounts, and amenities.)
How to get car rental discounts with AAA?
A Comprehensive Guide to Car Rental Discounts with AARP.
Discover Military Discounts for Car rental services.
Explore 15+ PRO TIPS to get cheaper car rental discounts every time.
Conclusion on 'What terminal is Frontier at DFW Airport?'
As we come to the end of this blog, we explored Frontier Airlines Terminal at DFW Airport. We also discovered Frontier DFW Terminal Map, arrivals, departures, food & dining options, parking facility, car rental, and important Frontier Travel Tips.
If you're traveling with Frontier via Dallas/Fort Worth International Airport (DFW), this travel guide may be helpful in navigating the airport terminal with ease.
Let us conclude with some key takeaway points below.
Dallas/Fort Worth International Airport (DFW) is located in Fort Worth, Texas, and is the major international airport serving Dallas-Fort Worth Metroplex. 
There are five terminals at DFW Airport including Terminal A, Terminal B, Terminal C, Terminal D, and Terminal E.
Frontier Airlines operates from Terminal E at DFW Airport. The majority of arrivals and departures are handled from this terminal, however, Terminal D is also used for international departures.
Frontier passengers can enjoy food, and beverages at various terminal restaurants/food courts. Besides, the can also purchase items at retail shops.
Parking facility is enough at DFW with the availability of Terminal Parking, Express Parking, Remote South Lot, Valet Parking, and Cell Phone Lots.
Car Rental Services are available at DFW Airport. There are 11 companies offering services at the airport.
FAQs on Frontier Airlines Terminal at DFW Airport
Where does Frontier fly into DFW?
Frontier Airlines flights from Dallas Fort Worth International Airport (DFW) are operated from Terminal E. Besides, Terminal D is also used for some international departures.
Where is Frontier Gate at DFW?
Frontier Gates at Dallas Fort Worth International Airport (DFW) are located in Terminal E. Gates E20, E21, and E10 are the most used gates for Frontier flights.
Can you walk from one terminal to another at DFW?
All terminals at DFW are connected post-security and can be accessed for free via the Skylink light rail train. While walking between the five terminals is possible, it's worth noting that each terminal has an average of 39 gates. It requires an average time of 20 minutes to walk from one terminal to another at DFW.
How early should I arrive at DFW Airport?
DFW Airport suggests passengers arrive at least two hours before domestic, and international departures. However, the best practice is to arrive at least 2 hours prior to domestic, and 3 hours prior to international flights.