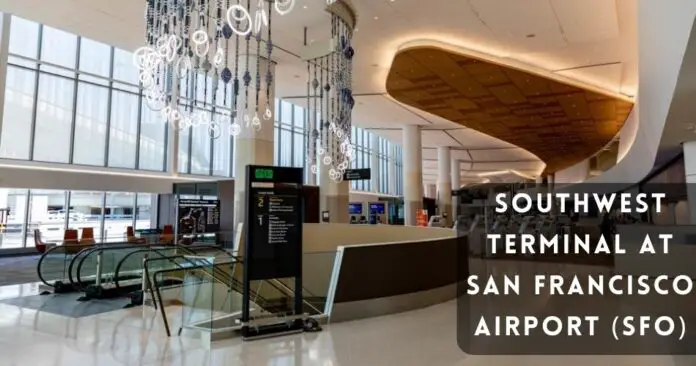 Southwest Airlines is among the major airlines in the United States with its headquarters in Dallas, Texas. The airline is also known as the world's largest low-cost carrier. 
Southwest operates flights to more than 120 domestic, and international destinations with 700+ Boeing 737 jets.
The flights are primarily operated from major hubs in Atlanta (ATL), Baltimore (BWI), Chicago-Midway (MDW), Dallas-Love (DAL), Denver (DEN), Houston-Hobby (HOU), Las Vegas (LAS), Los Angeles (LAX), Oakland (OAK), Orlando (MCO) and Phoenix-Sky Harbor (PHX).
Find out 'What terminal is Southwest at SFO Airport?'
San Francisco International Airport (SFO) is not among the operating hubs however, it is one of the important destinations for Southwest. Today, we will find out 'What terminal is Southwest at SFO Airport?' with a terminal map, arrivals/departures information, terminal facilities, and much more.
Table of Contents
What terminal is Southwest at SFO Airport? (San Francisco International)
San Francisco International Airport (SFO) is one of the primary airports in California that serve the San Francisco Bay Area. It is situated at an elevation of 13 ft (4 m) above mean sea level (AMSL) and is the primary hub for United Airlines and Alaska Airlines.
SFO covers a total land area of 5,207 acres and is equipped with four runways that are arranged in two intersecting sets of parallel runways.
San Francisco Airport features four terminals which are Harvey Milk Terminal 1, Terminal 2, Terminal 3, and the International Terminal. These terminals accommodate seven concourses categorized from A to G.
Southwest Airlines operates from the Harvey Milk Terminal 1B which is equipped with San Francisco–based restaurants, hundreds of power outlets, high ceilings, natural daylight, amazing artwork, and much more.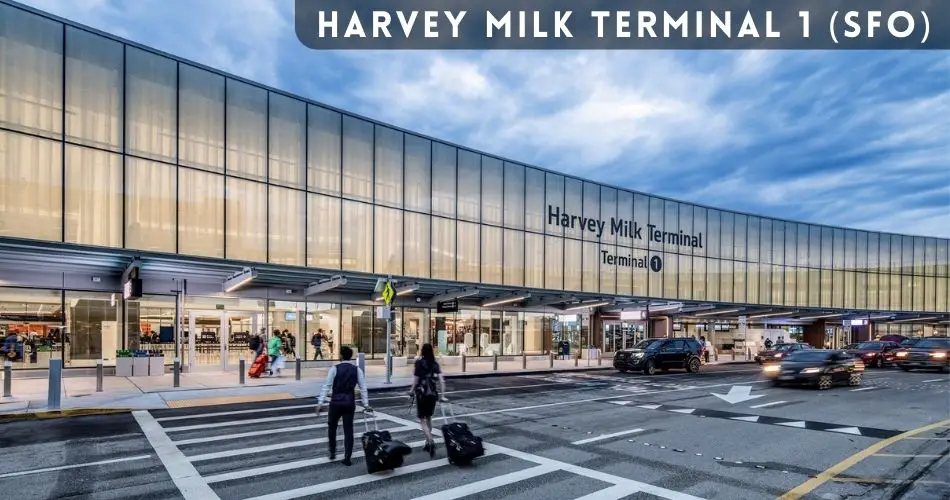 Southwest Ticket counters at San Francisco Airport are operational every day. The counter services begin 105 minutes before the first departing flight.
To ensure a hassle-free travel experience, Southwest Airlines advises passengers to arrive at the airport at least 120 minutes prior to their scheduled departure time for domestic, international, and Hawaii flights. This allows sufficient time for check-in, and security screening, and avoids any unexpected delays. Additionally, it provides passengers with ample time to enjoy the various amenities offered at the airport.
IMPORTANT REMINDER: Please ensure that all bags are checked at least 45 minutes before the scheduled departure time.
Travel Tip for international passengers: In order to facilitate a smooth boarding process, it is necessary for you to have your passport verified by an agent or a self-service kiosk at the Southwest Airlines Ticket Counter. Please make sure to complete this verification process well in advance of your departure time.
SFO Southwest Terminal facilities
As discussed above, San Francisco Airport is one of the key airports for Southwest flights. Southwest Passengers receive various facilities at the Harvey Milk Terminal 1 at SFO airport.
Here are the terminal facilities at SFO Terminal 1B
Dining options at various restaurants
Retail stores including iStore, Mills Cargo, Skyline News + Gifts, and Shoeshine
Family Restroom
Private Nursing Room
Pet Relief Area
Free Wi-Fi connectivity
Car Rentals
SFO International Terminal Lounges
This will help ensure that you and your four-legged companion have a safe and comfortable journey.
So, whether you're traveling with a chatty parrot or a cuddly cat, be sure to check out Southwest's pet policy before takeoff.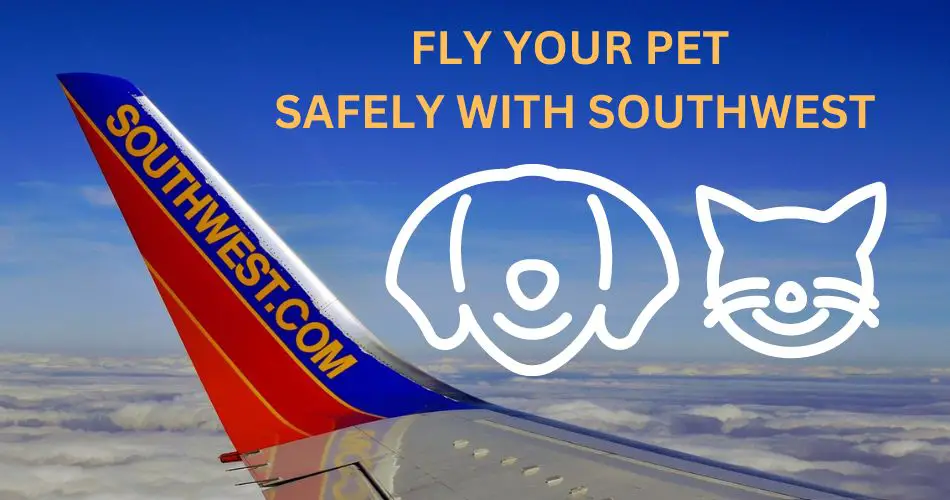 SFO Airport Ground Transportation Facility
Lyft/Uber Services – At the domestic terminals, Lyft and Uber rides can drop off curbside on the Departures or Arrivals levels, or on Level 5 of the Domestic Garage.
BART Rapid Rail – BART operates rapid rail service to northern San Mateo County, San Francisco, and the East Bay directly from SFO.
Caltrain Commuter Rail – Caltrain provides rail service between San Francisco and San Jose.
SamTrans Public Bus Service – SamTrans Routes 292 and 398 stop directly at the Airport terminals.
Airporters Service – Airporters are privately operated buses that travel to pre-arranged stops at scheduled frequency.
Car Rental Services – A total of 9 car rental providers offer regular services at SFO Airport.
Courtesy Shuttles – Courtesy shuttles to participating airport-area hotels are located at the Hotel Courtesy Shuttle Zone on the center island of the Departures/Ticketing Level roadway at all terminals.
AirTrain Service – SFO's AirTrain provides year-round service 24 hours a day, with station departures as frequent as every four minutes.
Southwest SFO Terminal Map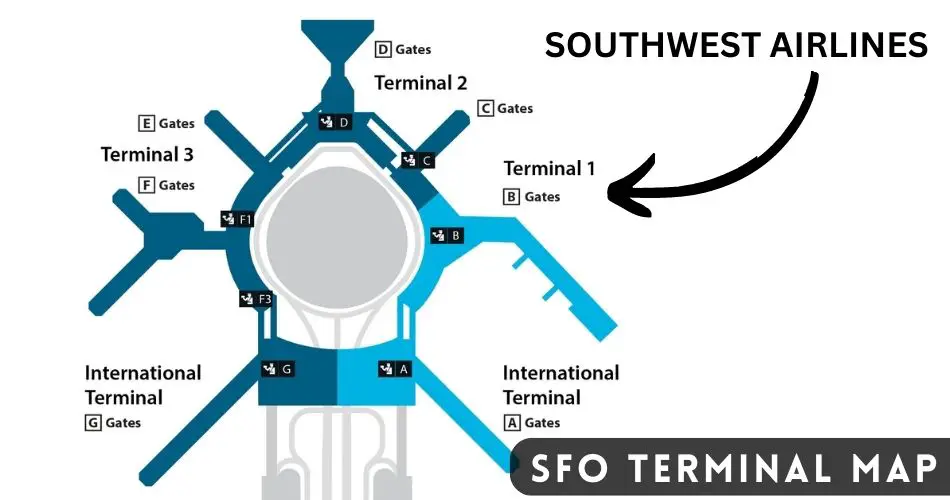 As shown in the image above the four terminals at SFO feature a total of 115 gates designed alphabetically in a counterclockwise ring. Terminal 1 lies between Terminal 2 and the International Terminal at SFO from where Southwest Airlines operates.
Harvey Milk Terminal 1 is next to the International Terminal at SFO. To reach Terminal 1 at SFO, you have options to use the airport shuttle service, light rail service, bus service, or your private vehicle.
Airport Access Roads are available around the airport terminal to access the Terminal area of your respective airline.
What terminal is Southwest departure at SFO?
All Southwest Airlines departure flights from SFO are handled from Harvey Milk Terminal 1. Facilities including check-in, security screening, baggage handling, restaurants, Wi-Fi, and so on are available at the departure terminal.
SFO Terminal 1 is located on the north side of the airport, and is connected to the International Terminal by the AirTrain.
What terminal is Southwest arrivals at SFO?
Like departures, all Southwest arrival flights are operated from Harvey Milk Terminal 1 at SFO. You will find all arrival terminal facilities such as baggage claim, immigration, security clearance, restaurants, and more.
For Southwest Airlines arrivals, passengers can collect their baggage at the lower level of Terminal 1. There are two designated baggage claim carousels specifically for Southwest Airlines arrivals. One carousel serves Gates A1-A12, while the other serves Gates B1-B24.
If you have a connecting flight at SFO, it is important to allocate additional time for transferring between terminals. The walk between Terminal 1 and the International Terminal takes approximately 10 minutes. Alternatively, you can utilize the AirTrain, a complimentary shuttle service that conveniently links all terminals at SFO.
What food options are at San Francisco Airport?
All terminals at SFO airport are equipped with adequate restaurants and dining options. Terminal 1 also features lots of restaurants where Southwest passengers can enjoy delicious food, and beverages.
Some popular restaurants in Harvey Milk Terminal 1B are shown in the table below with the menu.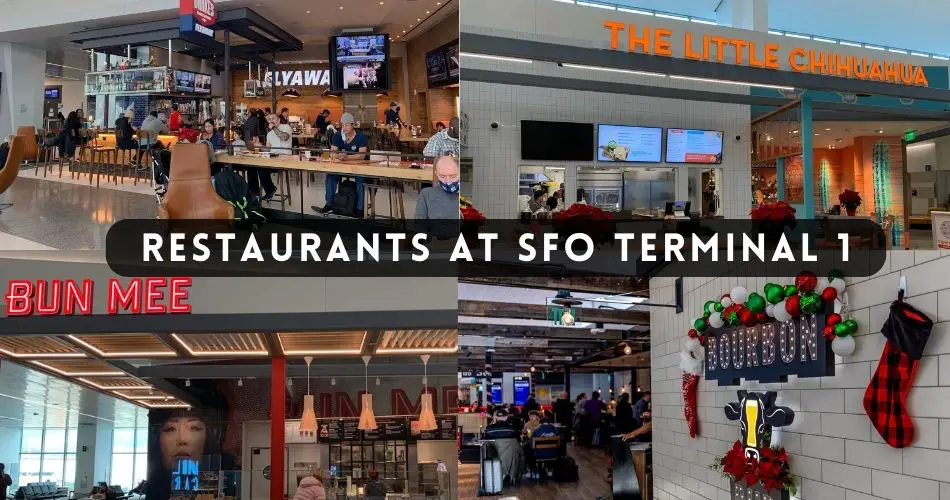 | | |
| --- | --- |
| RESTAURANTS | FOOD MENU |
| Amy's Kitchen | Veggie, Vegan, and Gluten-free burgers, burritos, and pizzas. |
| Illy Coffee | Premium Coffee, Bakery Items, Paninis, Salads, and Desserts. |
| Starbird | Wraps, Sandwiches, homemade lemonades, and salads with craft soda. |
| The Litte Chihuahua | Chilaquiles breakfast, organic egg-based tacos, fried plantain, black bean tacos, and burritos. Beverages include beer, wine, and cocktails. |
| Bourbon Pub | Burgers, wings, fish, chips, tacos, and bourbon. |
| Goldilocks | Variety of Filipino cuisine, and Goldilock's world-famous baked pastries. |
| Bun Mee | Vietnamese cuisine including pho noodle soup, fresh shrimp spring rolls, and banh mi sandwiches. |
| The Bistrot Bay Area | Italian market featuring coffee, desserts, pizzas, sandwiches, and gourmet salads. |
| Flyaway | Full bar brewery offering locally sourced pub-style food including breakfast, lunch, and dinner. |
Where do you park when flying to SFO?
San Francisco International Airport (SFO) features on-site parking spots in the central terminal area and outside the terminal area. You will find a domestic parking area, an international parking area, a long-term parking space, ParkFAST and ParkVALET facilities at the airport.
Domestic Terminal Parking is available at the center section of Terminals 1, 2, and 3 whereas International Parking space is located just at the entrance of the SFO International Terminal. A long-Term Parking facility is available near the airport entrance. ParkFAST and ParkVALET services are available in Domestic Parking lots only.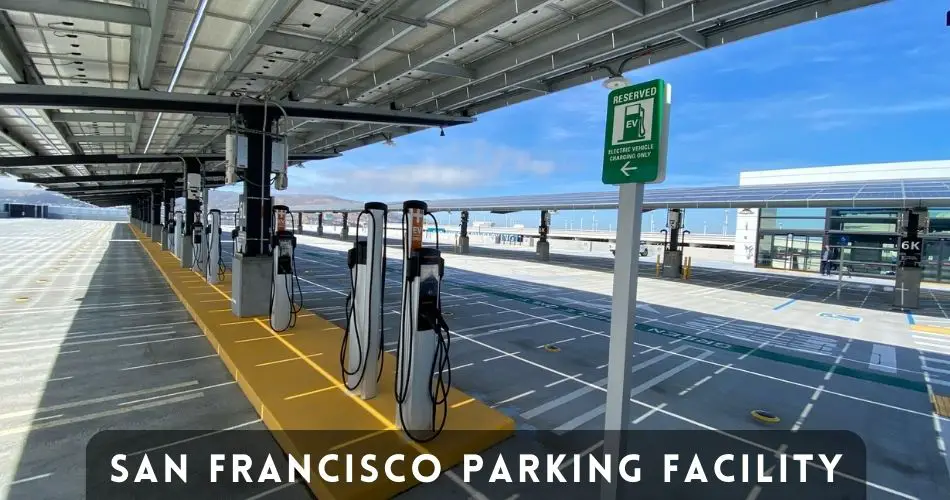 SFO offers parking space booking available online via the SFO's official website. You can book early and secure your spot.
If you are looking for reasonable parking spaces, there are various off-site parking locations near SFO airport. You can visit websites like Airport Parking Reservations, and get amazing deals on off-site parking spaces.
Car Rental Services at SFO Airport
San Francisco Airport (SFO) has an on-site Rental Car Center where passengers can easily pick up and drop off rental cars.
Passengers arriving at the airport can use the AirTrain Blue line to reach the Rental Car Center from the SFO Terminals. The AirTrain is an automated people mover system that operates 24 hours a day at SFO.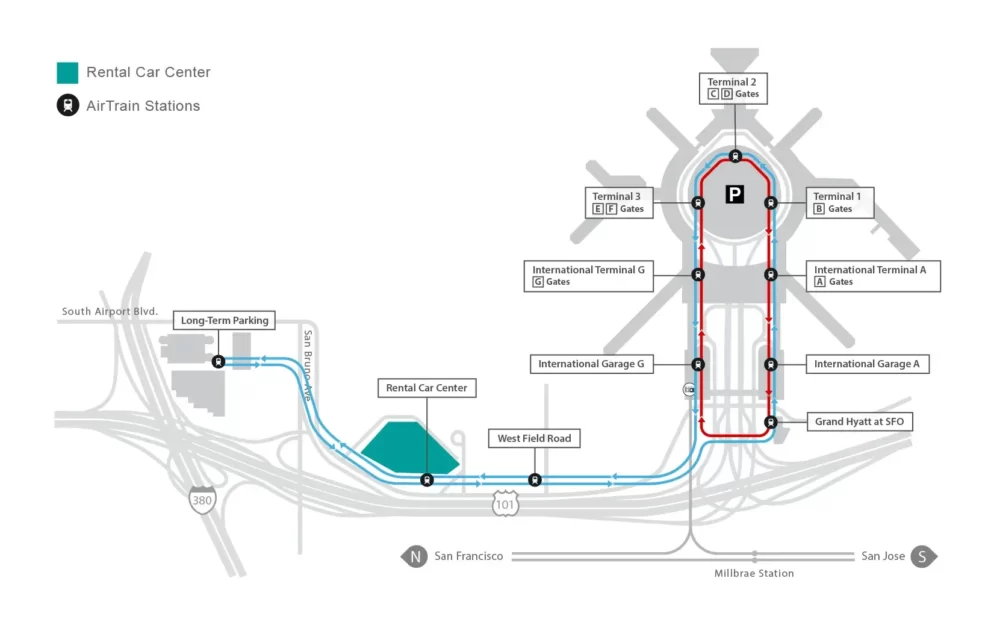 AirTrain stations are available in all terminals, the Rental Car Center, SFO's BART station, and terminal parking garages.
There are a total of 9 car rental companies that offer convenient rental services. These companies include Alamo, Avis, Budget, Dollar, Enterprise, Sixt, Hertz, National, and Thrifty.
Additionally, passengers have the option to rent vehicles from off-airport rental car agencies, which are served by free shuttle service from the SFO Rental Car Center.
The five off-airport car rental providers are Airport Van Rental, NU Car Rentals, Payless Car Rental, and Fox.
If you are an AAA member, AARP member, active-duty military personnel, national guard, and federal government employee, you get exclusive car rental discounts, and benefits.
(Check out the following blogs to grab the discounts, and amenities.)
How to get car rental discounts with AAA?
A Comprehensive Guide to Car Rental Discounts with AARP.
Discover Military Discounts for Car rental services.
Explore 15+ PRO TIPS to get cheaper car rental discounts every time.
Conclusion on 'What terminal is Southwest at SFO Airport?'
We are at the end of this blog where we explored 'What terminal is Southwest at SFO Airport?' with terminal facilities, map, restaurants, arrival/departure information, parking facility, and more. 
Let's conclude with some key points.
San Francisco International Airport (SFO) is the major international airport in California serving San Francisco Bay Area.
SFO is equipped with four passenger terminals namely Harvey Milk Terminal 1, Terminal 2, Terminal 3, and the International Terminal. These terminals accommodate seven concourses categorized from A to G.
Southwest Airlines operates flights from Harvey Milk Terminal 1B in San Francisco (SFO) Airport.
Southwest doesn't feature its own lounge facility at SFO however, you can find SFO international lounges and various restaurants in Terminal 1.
Passengers and visitors can park their vehicles at various parking lots available in, and out of the SFO terminal area. Parking spaces can be booked online via the airport's official website.
FAQs on Southwest Terminal at SFO
Which terminal in SFO is Southwest?
Southwest Airlines operates from Harvey Milk Terminal 1B  in San Francisco International Airport (SFO). All arrival, and departure flights are handled from this terminal.
What airlines are in Terminal 1 at SFO?
Southwest Airlines, American Airlines, and Jetblue Airways are in terminals at SFO Airport. 
Is Terminal 2 at SFO International or Domestic?
SFO Airport features four terminals: Terminal 1, Terminal 2, Terminal 3, and the International Terminal. All domestic flights are handled from Terminals 1, 2, and 3 whereas international flights are operated from the International terminal.
How do I check my Flight terminal?
You can find your terminal information on the e-ticket sent by the airline in your e-mail. Besides, you can log in to the airline's official website, and find your booked flight, and its overall information.