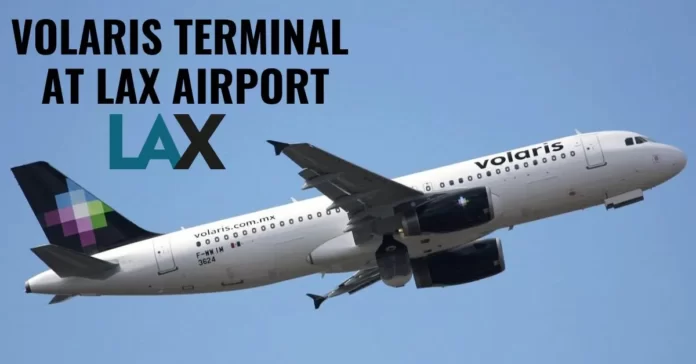 Volaris is a low-cost airline based in Mexico with its headquarters in Mexico City. The airline operates both domestic and international flights providing affordable air travel options to its passengers.
Volaris also connects international destinations in the United States, Central America, and the Caribbean. Los Angeles, Chicago, Houston, Cancun, Mexico City, and Guadalajara are some of the key cities.
Los Angeles International Airport (LAX) is among the top international destinations for Volaris. In this article, we are going to find out what terminal is Volaris at LAX Airport. We will also explore amenities, services, travel tips, and more.
Table of Contents
Which terminal in LAX is Volaris?
Los Angeles International Airport (LAX) is the primary international airport serving Los Angeles and its metropolitan area. 
Covering a sprawling area of 3,500 acres, LAX boasts four concrete runways: Runway 06L/24R, Runway 06R/24L, Runway 07L/25R, and Runway 07R/25L.
LAX serves as a major hub for several prominent airlines, including Alaska Airlines, American Airlines, Delta Air Lines, United Airlines, and Polar Air Cargo. Additionally, it serves as a significant "focus city" for carriers like Allegiant Air, JetBlue, and Southwest Airlines.
Passengers at LAX have access to nine terminals: Terminals 1, 2, 3, 4, 5, 6, 7, 8, and the Tom Bradley International Terminal (TB or TBIT). These terminals collectively offer a total of 146 gates. 
The Tom Bradley International Terminal handles explicitly all international flights, providing a gateway for travelers arriving from and departing from various global destinations.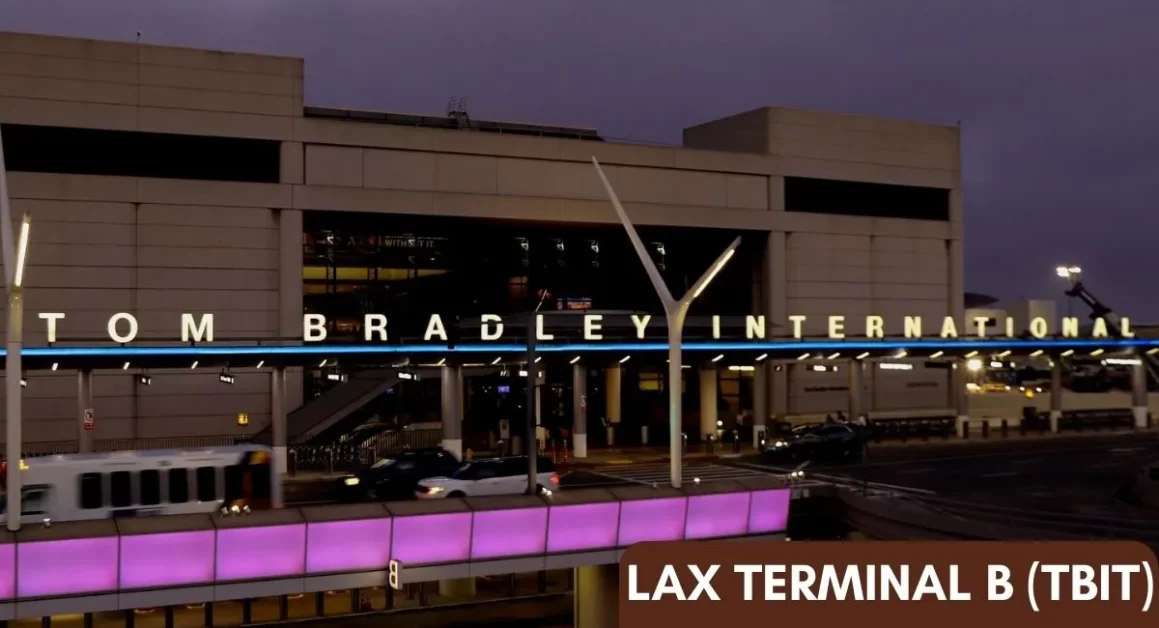 Volaris operates from Tom Bradley International Airport (TBIT) at Los Angeles International Airport (LAX).
The airline connects to more than 60 destinations from LAX.
Volaris Services at LAX Airport
Baggage Services
Customer Service
Ground Transportation
Shopping and Dining Options
Ticketing/Check-in
For domestic flights with Volaris, the check-in process opens within a timeframe of 72 hours to 1 hour prior to departure. On the other hand, for international flights, you are able to check in between 24 hours and 1 hour before the scheduled departure time.
The check-in options offered by the airline at LAX include web check-in, mobile check-in, and airport counters check-in. Volaris also offers check-in assistance via WhatsApp.
Volaris advises its passengers to arrive at least 2 hours prior to their domestic flights, and 3 hours prior to their international departure.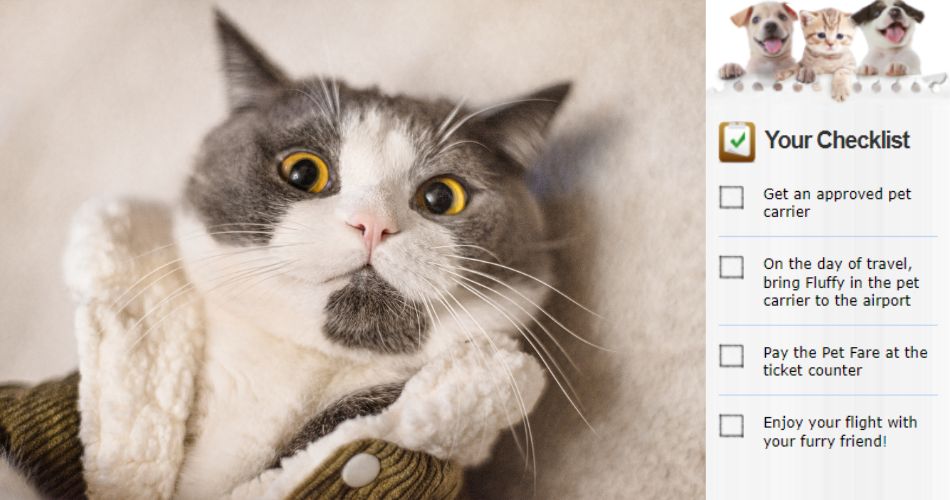 Traveling with pets via Volaris Flights?
We request you go through the Volaris Pet Policy to travel safely with your loved ones.
LAX Airport Ground Transportation Facility
FlyAway Nonstop Bus Service – The FlyAway nonstop bus service provides transportation between LAX and Union Station and Van Nuys.
LAX Transporation – Free shuttle transportation is provided for terminal-to-terminal connections. 
Taxi Cab Service – There are a variety of Taxi services that operate to and from LAX. Taxis drop passengers off at their terminals on the Upper/Departures Level.
Ride Apps – Lyft, Opoli, and Uber are the authorized providers of ride app services at LAX. 
Car Rental Service – Rental Car offices are located off-airport, away from airline terminals.
Public Transportation – Several public transit providers serve LAX, including L.A. Metro, Culver City Bus Lines, Santa Monica Big Blue Bus, Torrance Transit, and Beach Cities Transit.
Hotel Shuttles – Many major airport-area hotels provide courtesy transportation from LAX terminals.
Scheduled Buses – Buses provide service from LAX to various parts of Los Angeles and some surrounding regions.
Volaris LAX Terminal Map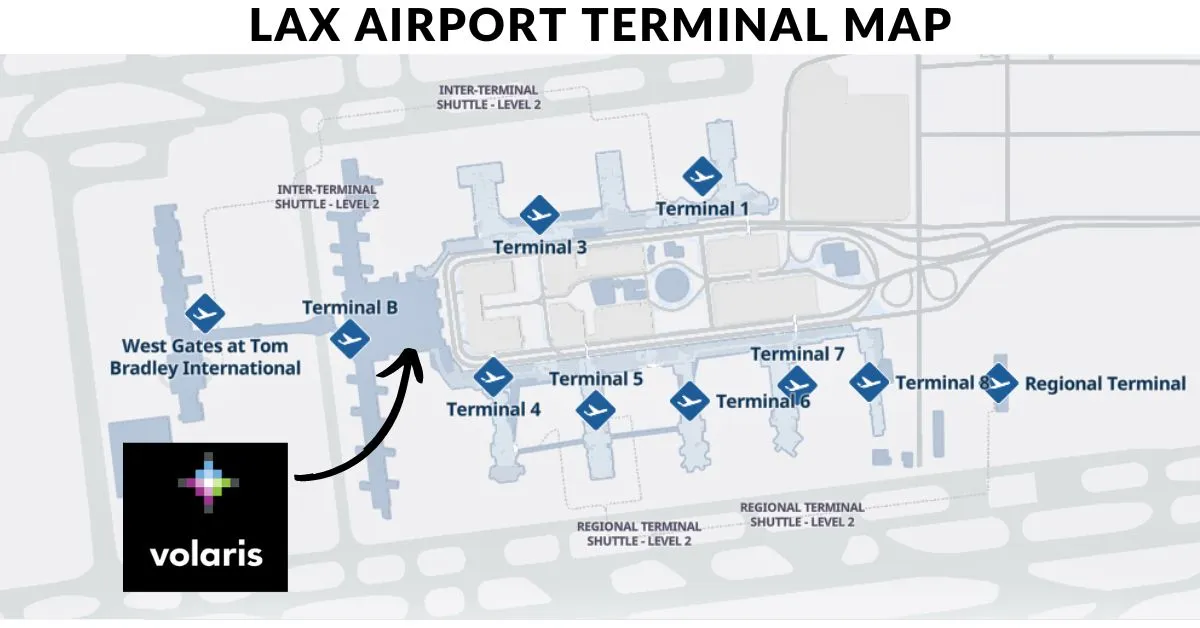 The layout of the nine terminals at LAX forms a horseshoe or 'U' shape, as depicted in the picture above. 
On the northern side, you will find Terminal 1, Terminal 2, and Terminal 3, while on the southern side, you'll find Terminals 4, 5, 6, 7, and 8. Terminal B is situated near Terminal 3 and Terminal 4.
Volaris, specifically, operates from Terminal B at LAX. All arrivals and departures for flights to and from LAX are handled within these terminals.
Where is Volaris departures at LAX?
Volaris departures from LAX Airport are operated from Terminal B (TBIT). Passengers can check their flight status from 24 hours before the departure time until 24 hours after the arrival.
The departure terminal provides various facilities for passengers, including a ticket counter, baggage service, lobby area, self-service kiosks, security screening checkpoints, as well as a range of options for food and shopping. These amenities are available to enhance the convenience and comfort of travelers before their departure.
IMPORTANT TIP: Arrive at least 2 hours prior to your domestic departure, and 3 hours prior to your international departure.
Volaris LAX Terminal Arrivals
Volaris Arrivals at Los Angeles International Airport (LAX) are handled at Terminal B (TBIT).
Passengers arriving at the terminal are provided with a range of facilities, including baggage claim services, security clearance procedures, customer service assistance, food and shopping options, ground transportation services, and other essential amenities. 
Food and Shopping Options at LAX Airport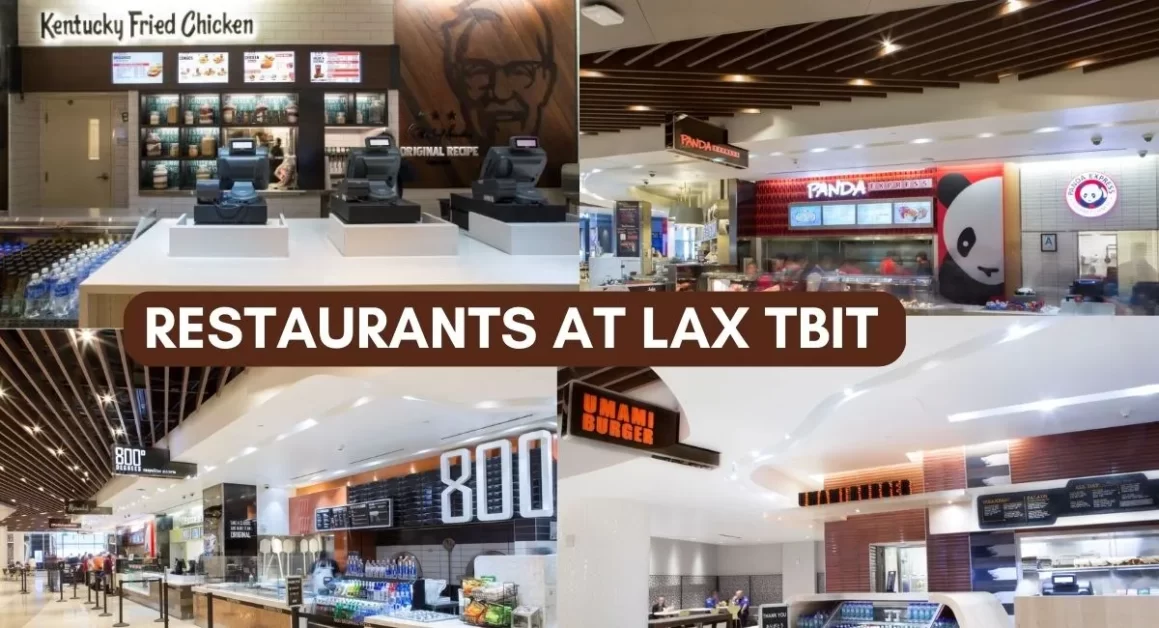 Volaris passengers can access several restaurants, and retail shops in LAX Terminal B to enjoy food, beverages, and shopping.
Restaurants in LAX Terminal B
| | |
| --- | --- |
| RESTAURANTS IN LAX TBIT | LOCATION |
| 800 Degrees Pizza | After TSA |
| Asia Street Eats | Before TSA |
| Beecher's Handmade Cheese | After TSA |
| Border Grill | After TSA |
| Burger King | After TSA |
| Carry on Marketplace | After TSA |
| Chaya Sushi | After TSA |
| Chicken Guy | After TSA |
| Earl of Sandwich | Before TSA |
| I Love LA | After TSA |
| ink.sack | After TSA |
| Kentucky Fried Chicken (KFC) | After TSA |
| LAMILL Coffee | After TSA |
| Panda Express | After TSA |
| PF Changs | After TSA |
| Pinkberry | Before TSA |
| Planet Hollywood | Before TSA |
| Playa Coffee | After TSA |
| Pret A Manger | After TSA |
| Santa Monica Brew Works | After TSA |
| Santouka Ramen | After TSA |
| Starbucks | Near Gate 148 |
| Starbucks Evenings | Near Gate 157 |
| The Coffee Bean & Tea Leaf | Before TSA |
| The Playa Vista | After TSA |
| Treat Me Sweet | After TSA |
| Umami Burger | After TSA |
| Vanilla Bake Shop | After TSA |
| Vino Volo | After TSA |
| WPizza by Wolfgang Puck | Before TSA |
Likewise, the popular retail shops at LAX Terminal B include Hugo Boss, iStore Boutique, LA Confidential, Los Angeles America!, Michael Kors, New Beauty, Pier Provisions, Porsche Design, Relay, See's Candies, Travel Market, Tumi, USA Today Travel Zone, Victoria's Secret, and Wilshire and Fairfax.
LAX Airport Parking Facility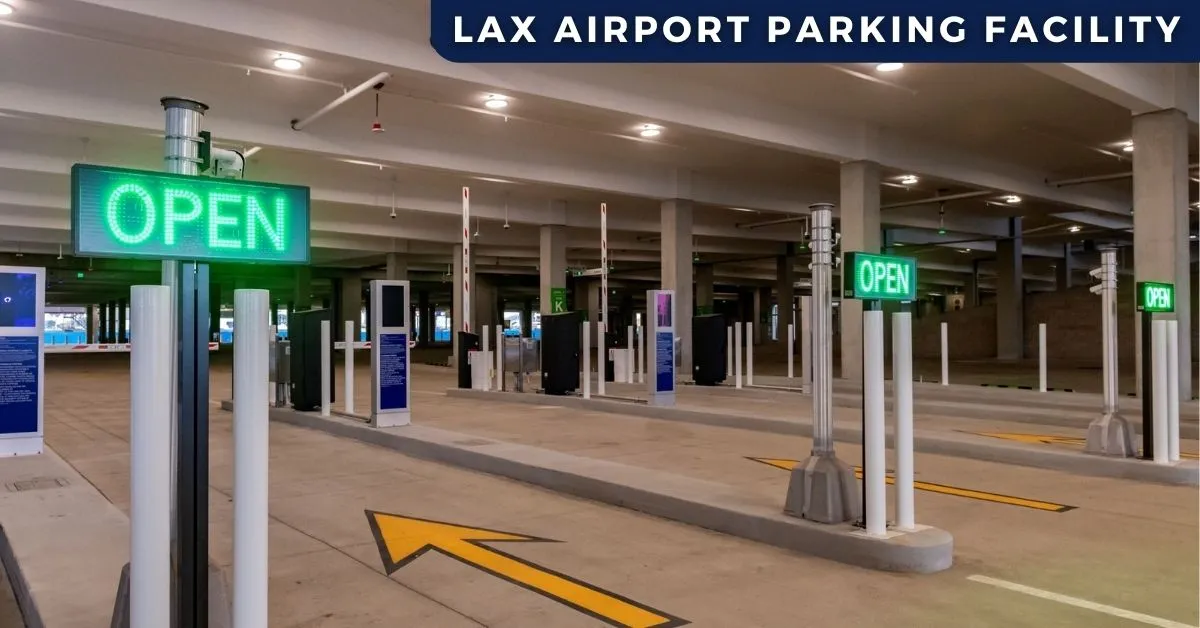 Los Angeles International Airport (LAX) provides seven parking locations distributed among the nine terminals, known as Parking 1, 2A, 2B, 3, 4, 5, 6, and 7. For customers flying with Singapore Airlines, it is convenient to utilize Parking locations P-3 and P-4, which are situated near the Tom Bradley International Terminal (TBIT).
To enhance passenger convenience, LAX offers a reserved parking system that enables online booking and pre-payment for parking spaces. By pre-booking parking, you can secure your spot and access a complimentary shuttle service to the terminal, reducing the potential for delays.
LAX features a variety of parking facilities to cater to different needs, including economy parking, central terminal area parking, electric vehicle parking, a cell phone waiting lot, motorcycle and bike parking, disability placard parking, vendor delivery parking, special events parking, and designated LAX employee parking.
Free shuttles are available to transport passengers from the terminals to the taxi and rideshare pickup area located outside the baggage claim section.
Please note that parking fees apply at the Central Terminal Parking Area, and these fees may vary depending on the circumstances or changes in policy.
For owners of electric vehicles (EVs), LAX offers electric vehicle charging stations. The cost for charging EVs at the LAX parking area is $2 per session plus an additional $0.45 per kilowatt-hour (kWh). As part of the Smart Parking Project, the airport plans to equip itself with 500 EV chargers. EV owners can book parking in advance to ensure a reserved space.
Car Rental Facility at LAX Airport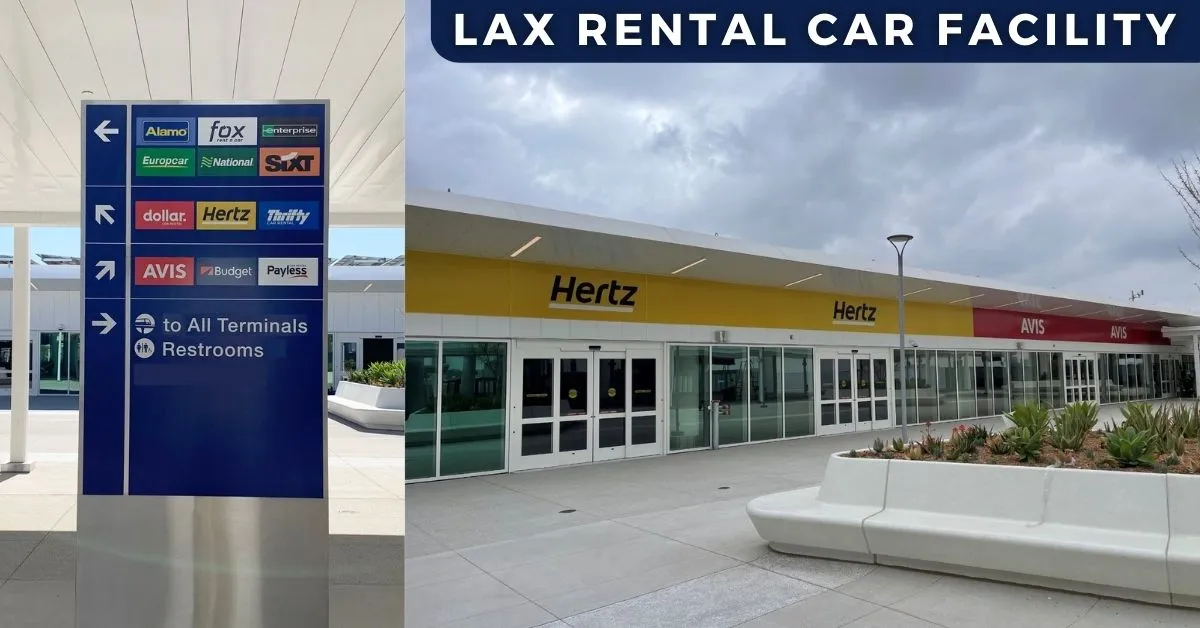 LAX airport offers the services of over 10 car rental companies to its customers. However, it's important to note that these rental providers are situated away from the airline terminals at LAX. This means that all car rental companies operate from off-site locations.
Upon arrival at LAX, passengers can locate the car rental companies by heading to the Lower/Arrivals Level islands outside the baggage claim area. Look for the purple "Rental Car Shuttles" sign, which will guide you to the designated area where the car rental shuttles are available.
CAR RENTAL PROVIDERS AT LAX AIRPORT: Alamo, Avis, Budget, Dollar, Enterprise, Fox, Hertz, National, Payless, Sixt, Thrifty, and ZipCar.
If you are an AAA member, AARP member, active-duty military personnel, national guard, and federal government employee, you get exclusive car rental discounts, and benefits.
(Check out the following blogs to grab the discounts, and amenities.)
How to get car rental discounts with AAA?
A Comprehensive Guide to Car Rental Discounts with AARP.
Discover Military Discounts for Car rental services.
Explore 15+ PRO TIPS to get cheaper car rental discounts every time.
Conclusion on 'What terminal is Volaris at LAX Airport?'
In conclusion, our guide to Volaris at LAX Airport has provided you with all the essential information you need to navigate the terminal with ease. From the terminal map and amenities to arrivals/departures and parking options, we have covered it all.
With this knowledge, you can confidently find your way through the Volaris terminal, knowing exactly where to go for check-in, security, and boarding. 
The various amenities and services available, including dining and shopping options, ensure that you have a comfortable and enjoyable experience while waiting for your flight.
We've also provided valuable information on arrivals and departures, allowing you to track your flight and plan your schedule accordingly. 
Additionally, we've outlined the parking facilities near the Volaris terminal and discussed ground transportation options, making it convenient for you to reach your desired destination.
FAQs on Volaris Terminal at LAX Airport
Is Volaris Terminal 1 or 2 at LAX?
Volaris operates from Terminal B (TBIT–Tom Bradley International Terminal) at Los Angeles International Airport (LAX).
Which LAX terminal is international?
Terminal B (TBIT–Tom Bradley International Terminal) is the international terminal at Los Angeles International Airport (LAX).
What airlines are in Terminal 2 LAX?
At present, WestJet operates from Terminal 2 at Los Angeles International Airport (LAX).
How early to arrive at LAX Airport?
Volaris recommends arriving at least 2 hours prior to the domestic departure, and 3 hours prior to the international departure.