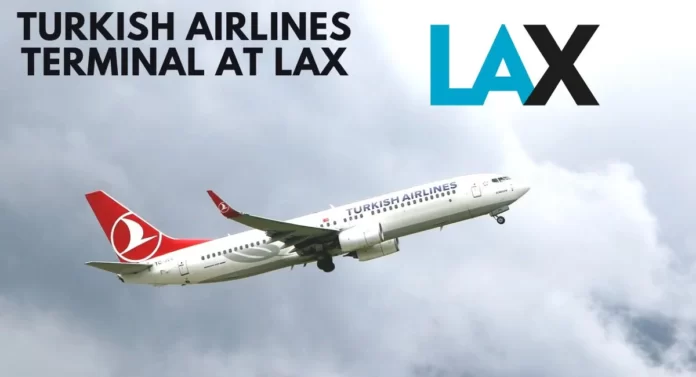 As the national flag carrier of Turkey and a member of the Star Alliance network, Turkish Airlines operates regular passenger flights to and from LAX. With more than 315 passengers destinations in Europe, Asia, Africa, and the Americas, THY stands as the largest airline in terms of destination covered and is your top option for international travel. 
Check out this article for an in-depth look into the services offered by Turkish Airlines at LAX – from terminal maps to arrivals/departure information; flight status and lounging options – we have everything you need for your travels!
Table of Contents
What terminal is Turkish Airlines at LAX?
Los Angeles International Airport (LAX) is among the primary airports serving Los Angeles and its metropolitan area. This airport sprawls across 3,500 acres of land, featuring 4 concrete runways – Rwy 06L/24R, Rwy 06R/24L, Rwy 07L/25R, and Rwy 07R/25L. 
LAX serves as the main hub for several airlines such as Alaska Airlines, American Airlines, Delta Air Lines, United Airlines, and Polar Air Cargo. Additionally, it also has the status of 'focus city' for carriers such as Allegiant Air, JetBlue Airways, and Southwest Airlines. 
Los Angeles International Airport consists of 9 passenger terminals including Terminals 1, 2, 3, 4, 5, 6 7 8, and B which have a total of 146 gates. The Tom Bradley International Terminal – TB (TBIT) at this airport handles all international flights.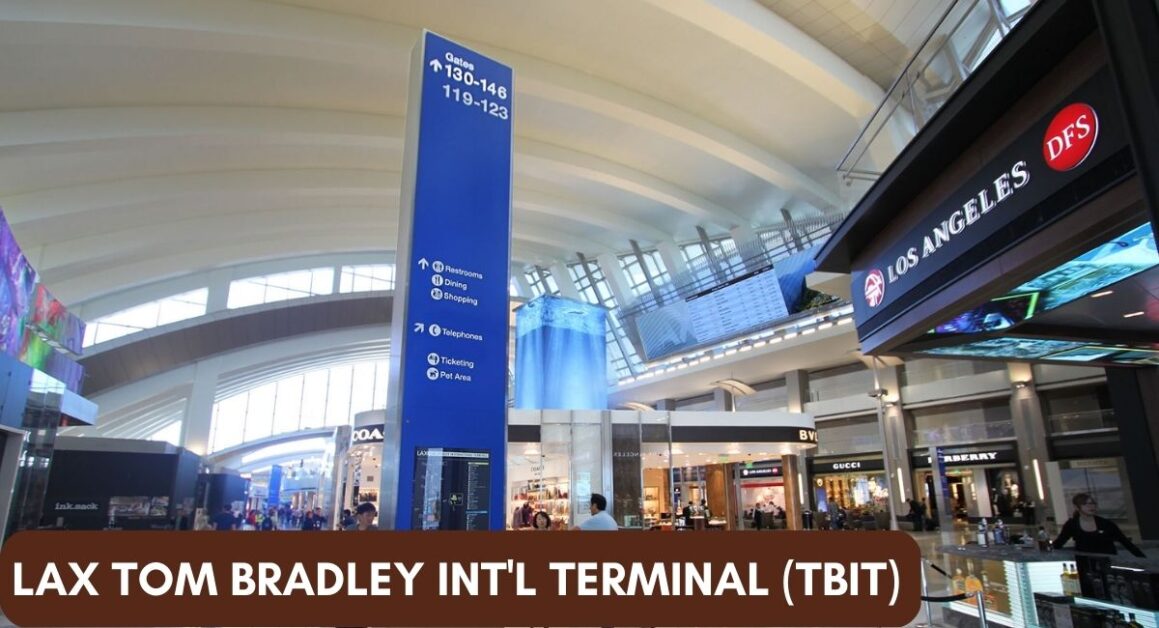 Turkish Airlines operates from Terminal B (TBIT) at Los Angeles Airport. Terminals 7 and 8 are also used for codeshare flights operated by partner airlines.
Turkish passengers are advised to arrive at LAX at least 3 hours prior to their scheduled international flight departure. For domestic flights, passengers can arrive at least 2 hours before their departure.
Turkish Airlines is the largest airline in terms of destinations covered. So, you have options to fly to almost every country from Los Angeles Airport.
Some popular destinations covered by Turkish from LAX include Istanbul, Tel Aviv, Athens, Tehran, Beirut, Amman, Rome, Cairo, Karachi, Mumbai, Ankara, Barcelona, Izmir, Kilimanjaro, Shiraz, Isfahan, Delhi, Berlin, Erbil, Zurich, Munich, and Milan.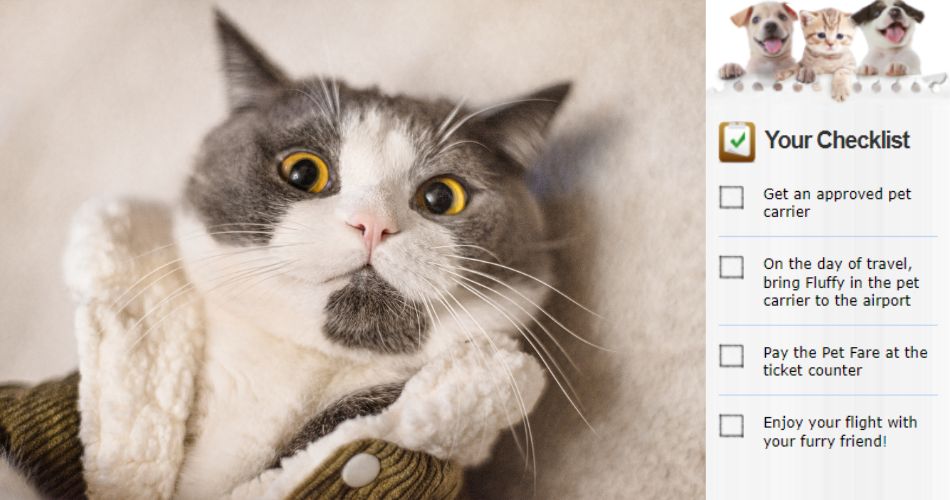 Traveling with pets via Turkish Flights?
We request you go through the Turkish Pet Policy to travel safely with your loved ones.
LAX Airport Ground Transportation Facility
FlyAway Nonstop Bus Service – The FlyAway nonstop bus service provides transportation between LAX and Union Station and Van Nuys.
LAX Transporation – Free shuttle transportation is provided for terminal-to-terminal connections. 
Taxi Cab Service – There are a variety of Taxi services that operate to and from LAX. Taxis drop passengers off at their terminals on the Upper/Departures Level.
Ride Apps – Lyft, Opoli, and Uber are the authorized providers of ride app services at LAX. 
Car Rental Service – Rental Car offices are located off-airport, away from airline terminals.
Public Transportation – Several public transit providers serve LAX, including L.A. Metro, Culver City Bus Lines, Santa Monica Big Blue Bus, Torrance Transit, and Beach Cities Transit.
Hotel Shuttles – Many major airport-area hotels provide courtesy transportation from LAX terminals.
Scheduled Buses – Buses provide service from LAX to various parts of Los Angeles and some surrounding regions.
Turkish Airlines LAX Terminal Departure
Turkish departures from Los Angeles Airport are handled from Terminal B. Some codeshare flights labeled as Turkish Airlines are operated by partner airlines from Terminals 7, and 8.
All basic terminal facilities including check-in, customer service, baggage service, restaurants, security screening, and so on are offered at the departure terminal.
Turkish Airlines LAX Arrival Terminal
Like Departures, all LAX arrival flights are operated from the International Terminal (TBIT). Codeshare flights labeled as Turkish Airlines may be operated from Terminals 7, and 8 by the partner airlines.
Services including baggage claim, customs, security clearance, restaurants, customer service, and other basic terminal facilities are available at the arrivals.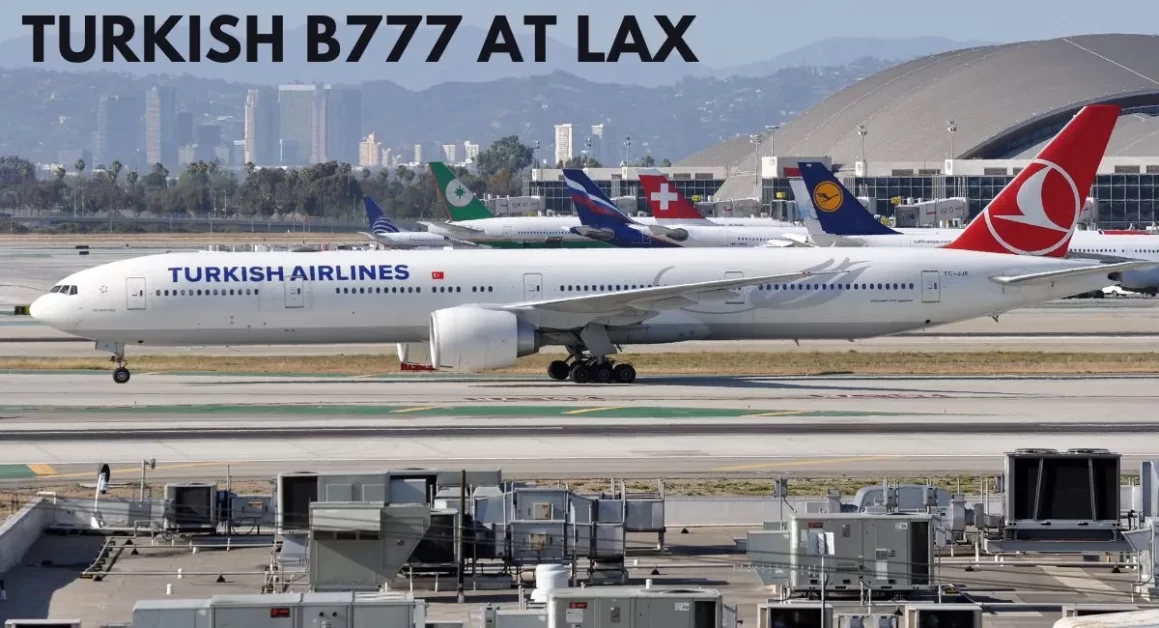 Do Turkish Airlines have a lounge at LAX?
Turkish Airlines doesn't feature its own lounge amenity at LAX Airport. However, eligible passengers can access Star Alliance Lounge to enjoy food & beverages, and relax before their flight.
There are two Star Alliance Lounges at LAX Airport Terminal B; Star Alliance Lounge (First Class), and Star Alliance Lounge (Business Class). 
Star Alliance First Class Lounge is located on the 6th Floor, TBIT. Eligible First Class passengers can access it via elevator at the clock tower in the main atrium.
The luxurious Star Alliance First Class Lounge at Los Angeles International Airport offers a plethora of deluxe features and services. Relax and enjoy spectacular views of the airfield, distant Hollywood hills, and the Southern California sunshine from its outdoor terrace, crafted with an intimate fire-lit ambiance come nighttime. 
Complimentary cocktails and refreshments are available from the serviced bar, while guests can choose how they want to spend their time in its different areas with options ranging from relaxing to working or dining. 
Well-appointed shower suites are also available for those wanting to freshen up before their flight. Additionally, First Class customers have exclusive access to a private lounge complete with a la carte dining and highly personalized service.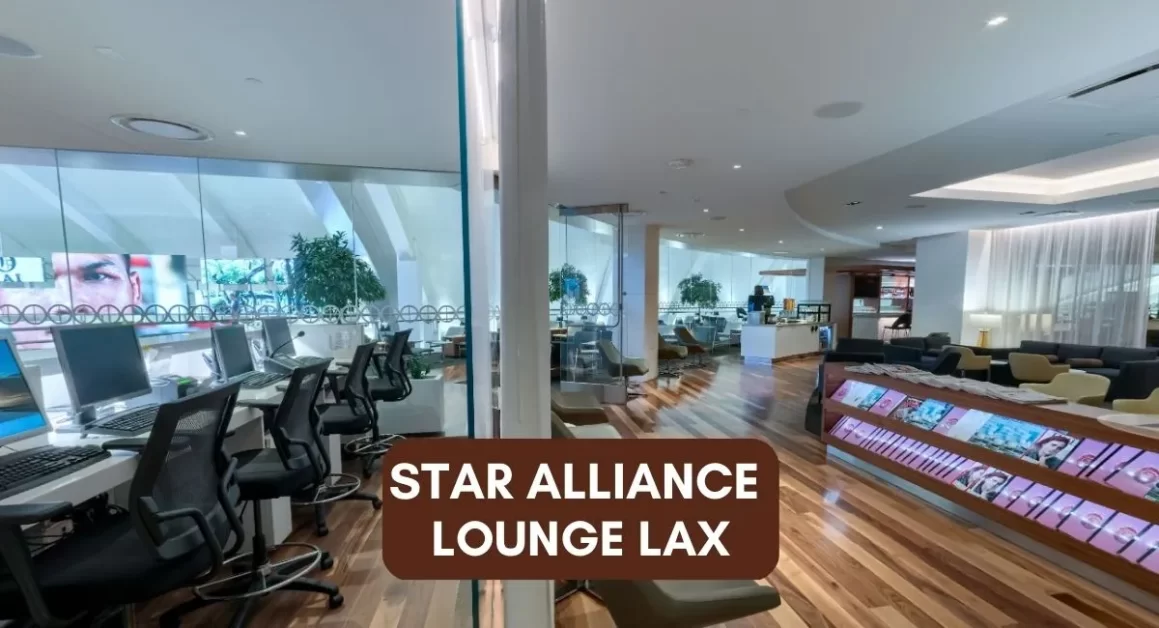 Amenities offered by Star Alliance First Class Lounge
Food, Snacks, and Beverage Selection
Private Rooms
Magazines
Flight Information
WLAN, and Internet Access
Showers
Printer, and FAX
TV Area
Telephone Access
Toilet Facilities
Star Alliance Business Class Lounge can be found on the 6th Floor, Level 6 Central atrium area in the Tom Bradley International Terminal.
Amenities offered by Star Alliance Business Class Lounge
Food and Snacks
Hot and Cold Beverages including Alcoholic Drinks
TV Area
WLAN, and Internet Access
Telephone Access
Printer and Fax
Flight Information
Magazines
If you are not an eligible Turkish passenger for lounge access at LAX airport, you can enjoy food and beverages at various top-quality terminal restaurants.
Some Popular Restaurants in Terminal B are shown in the table below.
| | |
| --- | --- |
| RESTAURANTS IN TERMINAL B (TBIT) | FOOD & SERVICES |
| 800 Degrees Pizza | Italian Pizza |
| Border Grill | Mexican Cuisine, and Bar |
| Kentucky Fried Chicken | Fast Food Restaurant |
| Panda Express | Chinese Cuisine (Fast Food) |
| Umami Burger | American Cuisine, and Burgers |
| ink.sack | American Cuisine and Sandwiches |
Parking Facility at LAX Airport
You can find seven parking locations between the nine terminals at LAX Airport, and they are categorized as Parking 1, 2A, 2B, 3, 4, 5, 6, and 7. Parking locations P-3 and P-4 are located near TBIT so, Turkish Airlines customers can use these spaces to park their vehicles.
For passenger convenience, LAX offers a reserved parking system with which you can book and pre-ay for parking spaces online. You can get a free shuttle service to the terminal and avoid delays by pre-booking parking at LAX.
Parking facilities at LAX include economy parking, central terminal area parking, electric vehicle parking, cell phone waiting lot, motorcycle and bike parking, disability placards, vendor delivery parking, special events parking, LAX employee parking, and much more.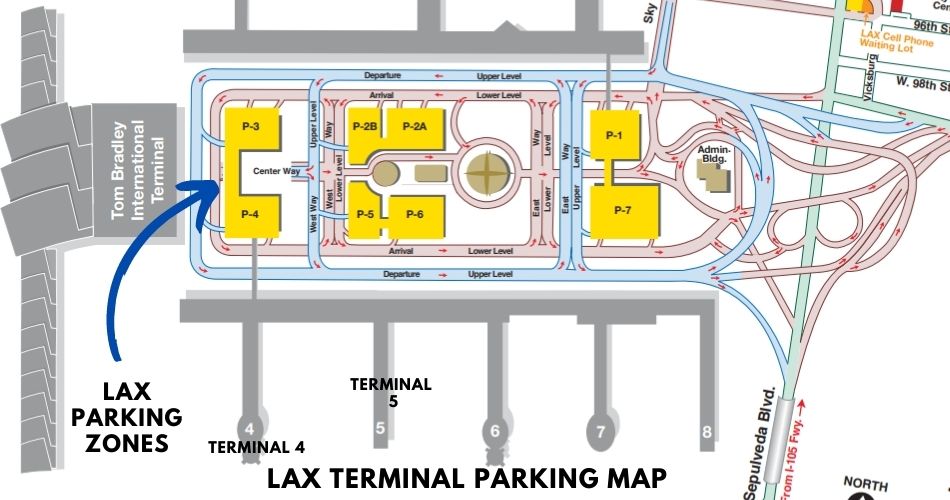 There are free shuttles to the taxi and rideshare pickup area located outside the baggage claim area.
There are certain parking fees applicable at Central Terminal Parking Area. The parking fees can change depending upon the situation, however, the latest rates effective from September 2021 are displayed in the table below.
| | | |
| --- | --- | --- |
| DRIVE-UP GENERAL PARKING | LAX Economy Parking | PREMIUM PARKING |
| 15 Minutes of Free Parking | | 15 Minutes of Free Parking |
| $7 First hour or fraction thereof | $6 First hour or fraction thereof | $9 First hour or fraction thereof |
| $6 Every 30 minutes after the first hour | $5 Every 30 minutes after the first hour | $8 Every 30 minutes after the first hour |
| $50 Maximum for each 24-hour period | $30 Maximum for each 24-hour period | $60 Maximum for each 24-hour period |
Those people with electric vehicles can benefit from the electric vehicle charging stations available at LAX. The cost of charging EVs at the LAX parking area is $2 per session plus 0.45 per kWh. The airport is set to be equipped with 500 EV Chargers as part of the Smart Parking Project. EV owners can book parking and guarantee space.
Car Rental Services at Los Angeles Airport
Customers at LAX airport are served by more than 10 car rental companies. The rental providers are located away from airline terminals at LAX. That means all rental companies are established at off-site locations.
Passengers arriving at LAX can find car rental companies under the purple "Rental Car Shuttles" sign on the Lower/Arrivals Level islands outside baggage claim.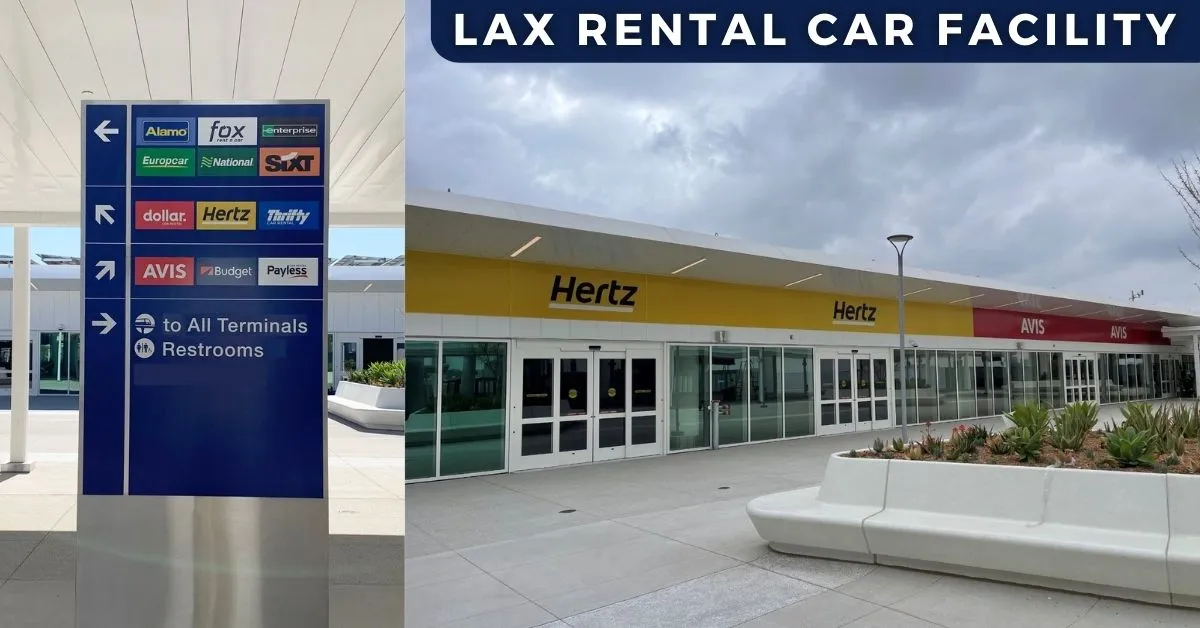 The available car rental companies at LAX Airport: Alamo, Avis, Budget, Dollar, Enterprise, Fox, Hertz, National, Payless, Sixt, Thrifty, and ZipCar.
Plus, there are other remote rental car depot services located at the intersection of Century, and Airport Boulevards. Arriving passengers need to wait for the PINK LAX shuttle sign on the Lower/Arrivals level in front of each terminal, and board the "Metro Connector" Shuttle.
Remote Car Rental Companies at LAX Airport: Able Car Rental/Allied Rent A Car, Ace Rent A Car, Airport Van Rental, Avail, Green Motion Car Rental, Lyft Rentals, Midway, Next Car of Los Angeles, Priceless of Los Angeles, State Van Rental, and U-Save Car & Truck Rental.
If you are an AAA member, AARP member, active-duty military personnel, national guard, and federal government employee, you get exclusive car rental discounts, and benefits.
(Check out the following blogs to grab the discounts, and amenities.)
How to get car rental discounts with AAA?
A Comprehensive Guide to Car Rental Discounts with AARP.
Discover Military Discounts for Car rental services.
Explore 15+ PRO TIPS to get cheaper car rental discounts every time.
Conclusion on Turkish Airlines LAX Terminal
We have come to the end of this informative article in which we explored Turkish Airlines LAX Terminal with terminal facilities, arrivals/departures, parking facilities, lounge amenities, restaurants, and much more.
Let's sum up this blog with some key conclusive points below.
Los Angeles International Airport (LAX)

is one of the major airports serving the Greater Los Angeles Area.
LAX features nine passenger terminals namely Terminal 1, Terminal 2, Terminal 3, Terminal 4, Terminal 5, Terminal 6, Terminal 7, Terminal 8, and Tom Bradley International Airport (TBIT or Terminal B).
Turkish Airlines operates from Terminal B (TBIT) at LAX Airport. Terminals 7, and 8 are also used by partner airlines operating codeshare flights labeled as Turkish Airlines.
Eligible First Class and Business Class passengers can access Star Alliance Lounge at LAX airport. 
LAX offers seven parking locations and allows passengers and visitors to book parking spaces online.
Car Rental Services are also available at LAX Airport.