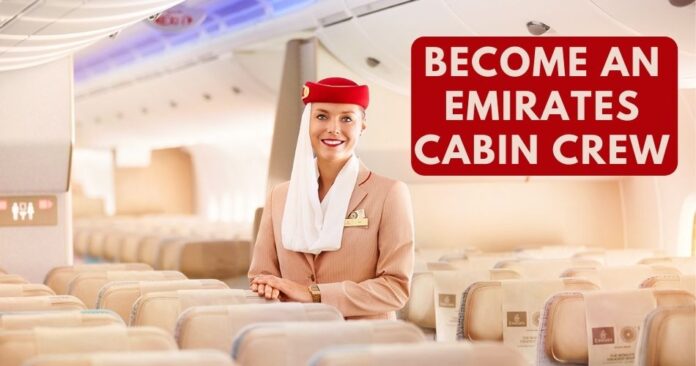 It is always a dream of an aviation enthusiast to work for an airline company like Emirates. There are various fields you can join in the aviation industry and cabin crew or flight attendant is one of them.
Do you aim to work as an Emirates Cabin Crew and progress your career?
If yes, you need to go through this detailed article to explore all information related to becoming a successful cabin crew for Emirates. We will cover topics including requirements, hiring process, training, salary, uniform, interview questions, and much more.
Without further delay, let's start with a basic introduction to Emirates.
Table of Contents
About Emirates
Emirates is the biggest airline of the United Arab Emirates (UAE) and is the flag carrier of Dubai. The airline operates flights to over 150 destinations in 80 countries from its hub at Dubai International Airport (DXB).
Talking about the fleet details, Emirates currently owns more than 260 aircraft consisting of Airbus A380 and Boeing 777. The airline has also ordered Airbus A350-900, A330-900, Boeing 787-9 Dreamliner, and Boeing 777X.
Emirates also operates flights via codeshare agreements with big airlines including Qantas, Japan Airlines, JetBlue, Thai Airways, Korean Air, Garuda Indonesia, China Southern Airlines, and much more.
How to Become an Emirates Cabin Crew?
Emirates provides opportunities for interested candidates to apply for the position of cabin crew. The airline seeks those people who have the ability to adapt to any situation and can make customers feel at ease.
To apply for the cabin crew vacancy, you as an applicant must meet basic requirements that include age, education, physical appearance, personality, and so on.
Let's find out the basic requirements below.
Emirates Cabin Crew Requirements
Here are the basic requirements you need to fulfill before applying for the Cabin Crew vacancy at Emirates.
High School Graduate (Grade 12 Level) Education is mandatory.
A minimum of 1-year of experience in hospitality or customer service is a plus point.
Applicants must be able to meet UAE's employment visa requirements.
Fluency in the English Language (Writing, Speaking, and Reading) is a must.
Proficiency in additional languages is a benefit.
The minimum height requirement is 160cm and arm reach is 212cm.
Applicants must possess a positive attitude, problem-solving skills, teamwork capability, and other soft skills.
Must be able to enhance the Emirates' personality.
Must be able to manage an arduous work schedule.
Emirates Cabin Crew Age Limit
The minimum age of the applicant must be 21 years. There is no maximum age limit declared to apply for the cabin crew vacancy however, applicants more than 30 years are less likely to be selected.
Emirates Cabin Crew Photo Requirements
While applying for the Cabin Crew job for Emirates, you are required to submit an online application which also includes photo requirements.
As per the application requirement, you must submit 1 full-length formal photo, 1 passport-sized photo, and 2 smart/sophisticated photos. All these photos must be taken and printed recently.
Emirates Recruitment Event Dress Code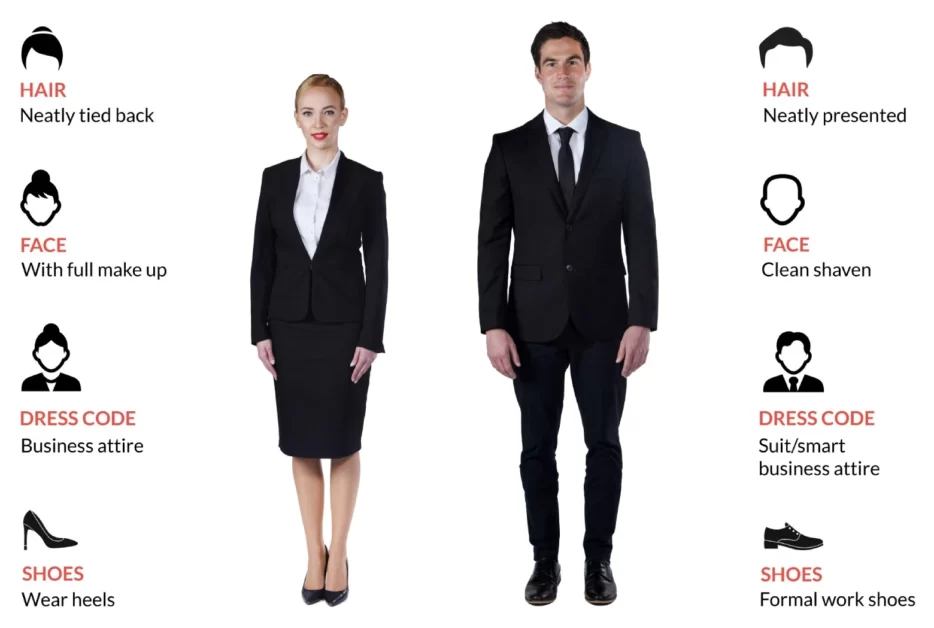 Emirates Cabin Crew Tattoo Policy
Visible tattoos are strictly prohibited for Emirates Cabin Crew. While in the Emirates official cabin crew uniform, tattoos mustn't be visible. You are also not allowed to cover your tattoos with bandages or cosmetics.
Emirates Cabin Crew Hiring Process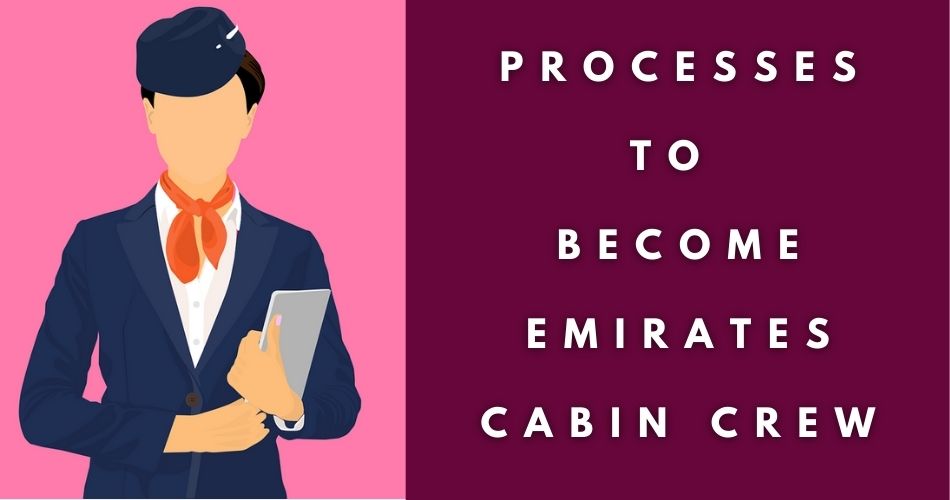 If you meet all the requirements mentioned above, you are now ready to apply for the cabin crew post at Emirates. The Emirates recruitment process is fully digital so, you need to go through the following processes to apply accurately.
First of all, you need to visit the Emirates Careers site and find a cabin crew vacancy.
If you find any active vacancy, you can apply online by completing a short application form and submitting it with the latest CV prepared in the English language and a recent photo (as per the photo requirement we discussed above).
The airline recruitment team will review your online application and if selected, you will appear for an online English exam and video interview.
Once you manage to pass the English test and video interview, you will complete the full application and sign the relevant declarations.
You will be invited to a short face-to-face interview if shortlisted for the final stage of the hiring process.
If you manage to pass the face-to-face interview, you will successfully complete the hiring process and get selected for the Emirates Cabin crew training program.
Emirates Cabin Crew Training Program
The fresher cabin crew must take the initial cabin crew training program to become eligible for flying with Emirates and serving customers.
The Emirates Cabin Crew training is conducted at Emirates Aviation College (EAC) located in Academic City, Dubai, UAE. The overall period of the training program is 44 days.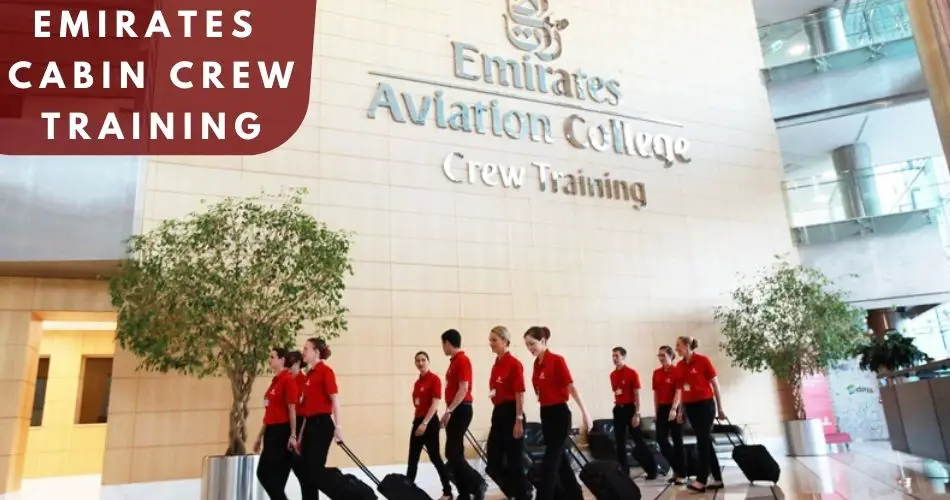 Talking about the salary, cabin crew trainees are provided with a basic salary from the first day of joining the training. In addition, Emirates will also provide accommodation upon arrival in Dubai.
The training modules are illustrated in the table below.
TRAINING MODULE
TOPICS
DURATION
Induction
Familiarisation with the new environment
Basic information and assistance
8 days
Safety and Emergency Procedure (SEP)
In-Flight Emergencies
Fire Fighting
Emergency Evacuation
Aircraft Equipment
13 days
Group Medical Training (GMT)
Handling CPR, burns, bleeding, emergency childbirth, and various other medical conditions.
5 days
Security Training
Skills and Techniques to handle unruly behaviour, hijacking, sabotage, and various security concerns.
2 days
Uniform Standards
Uniform norms
Skin and Hair Care
Make-up
Nail Care
Healthy Lifestyle
1 day
Service Personality
Personality Tips
1 day
Service
Knowledge and skills for delivering a quality in-flight experience
14 days
TOTAL TRAINING PERIOD
44 days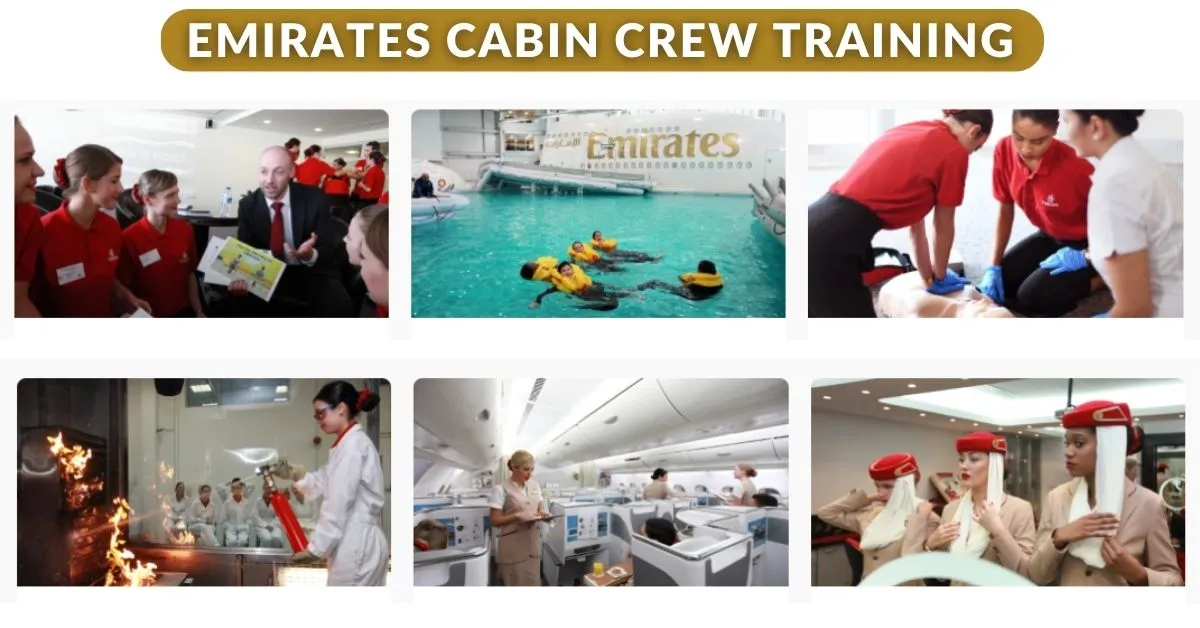 After successfully completing the initial cabin crew training, fresh cabin crews will go through 4 months on the job learning to develop skills, confidence, and proficiency. With the completion of 4 months of real-time learning, you will become an official Emirates cabin crew.
Emirates Cabin Crew Interview Questions
You must always be prepared with some common questions that might be asked during video interviews and face-to-face interviews.
Some important questions asked during the Emirates Cabin Crew hiring process are listed below which you can prepare to answer intelligently.
Tell us about yourself.
Why do you want to work as a Cabin Crew?
What do you know about Emirates?
Why did you choose to work for us?
Do you have any experience in the past related to customer service or hospitality? Or have you worked for other airlines before?
What do you think are the qualities required to become a proficient cabin crew?
Have you applied for Emirates Cabin Crew previously? If yes, what was the reason behind not being selected?
What are your strengths and weaknesses?
Have you ever dealt with an angry or upset customer? If yes, how did you deal with the situation?
What are your strategies to handle stressful circumstances?
Are you able to relocate to our base in Dubai?
Why do you think Emirates should hire you?
If selected, how will you try to promote the brand identity?
Do you really have a passion for aviation and travel?
Emirates Cabin Crew Uniform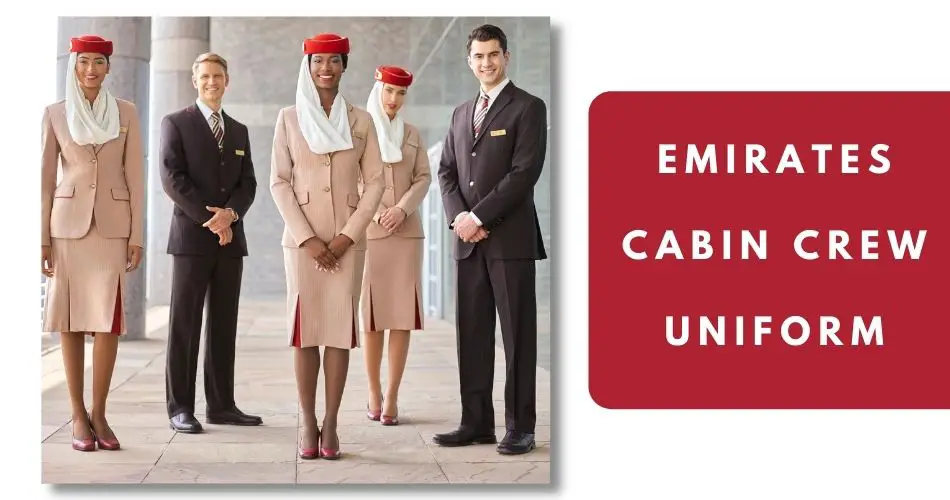 Emirates Cabin Crew Contract
The selected cabin crew for Emirates will receive a three-year non-binding contract which requires renewal afterward. However, the first 6-months of joining the airline will be counted as the probationary period. 
After the completion of a 3-year contract, you will have options for contract renewal with agreement by Emirates management and crew member.
Explore More Cabin Crew Opportunities
Become a Qatar Airways Cabin Crew
Become a Singapore Airlines Cabin Crew 
Become a Japan Airlines Cabin Crew
Become a Cathay Pacific Cabin Crew
Become a Qantas Airways Cabin Crew
Become an Air France Cabin Crew 
Become a British Airways Cabin Crew
Become a Lufthansa Cabin Crew
Become a KLM Cabin Crew
Become a Turkish Airlines Cabin Crew
Become an Etihad Airways Cabin Crew
Become a Thai Airways Cabin Crew
Emirates Cabin Crew Salary
Fresh Cabin crew at Emirates can earn AED 4,650 per month which is equivalent to US$1,266 (as per the exchange rate at the date of writing this article).
Considering the hourly pay rate, cabin crews get AED 63.75 (US$17.36) per hour. This hourly flying pay is based on average flying hours of 80 to 100 hours monthly.
The average total pay per month is AED 10,388 (USD 2,828; EUR 2,519; GBP 2,165).
Cabin Crew at Emirates can expect an average total pay of AED 9,770 (US$2,660) per month. Besides, the airline also provides meal allowances in the currency of the country in which a night stop is made.
As an Emirates Cabin Crew, you will become delighted to know that the salary earned is tax-free.
Emirates Cabin Crew Benefits
In addition to the basic salary, Emirates Cabin Crews enjoy various benefits and perks.
Staff Travel Benefits on Emirates Flights.
Discounts on flights with other airlines as per interline agreements.
Free Accommodation and related facilities.
Free Transportation to and from work.
Free Uniforms are provided along with dry-cleaning services.
30 calendar days of leave per year.
Free annual leave ticket to your home country once a year.
Career Growth Opportunities.
Medical and Dental Services
Conclusion on Becoming an Emirates Cabin Crew
This is how you can become an Emirates Cabin Crew and advance your career in the aviation industry. The information we shared above is almost enough for applying for the cabin crew vacancy at Emirates.
If you have any queries or doubts, please do not hesitate to contact us or write in the comment section below.
FAQs on Becoming an Emirates Cabin Crew
How much does the Emirates cabin crew earn?
Fresh Cabin crew at Emirates can earn AED 4,260 per month which is equivalent to US$1,160. Considering the hourly pay rate, cabin crews get AED 61.25 (US$16.68) per hour.
Is it hard to get into Emirates cabin crew?
Emirates is one of the best airlines in the world and you can expect tough competition. If you prepare well, pass the assessments, and manage to show the required confidence, you can get selected for the Emirates cabin crew.
Does Emirates charge for cabin crew training?
The selected cabin crew will be provided with free initial cabin crew training. Also, a basic salary will be provided from the first day of joining the training program.
How do I become a flight attendant for Emirates?
First of all, you need to meet all the basic requirements and apply online with a CV and photo. You must go through an English test, video interview, and face-to-face interview to get selected for the Emirates flight attendant.